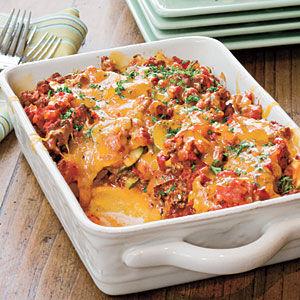 Ingredients
1 teaspoon salt
1 cup plain yellow cornmeal
1/2 teaspoon Montreal steak seasoning
1 cup (4 oz.) shredded sharp Cheddar cheese, divided
1 pound ground chuck
1 cup chopped onion
1 medium zucchini, cut in half lengthwise and sliced (about 2 cups)
1 tablespoon olive oil
2 (14 1/2-oz.) cans petite diced tomatoes, drained
1 (6-oz.) can tomato paste
2 tablespoons chopped fresh flat-leaf parsley
Preparation
1. Preheat oven to 350°. Bring 3 cups water and 1 tsp. salt to a boil in a 2-qt. saucepan over medium-high heat. Whisk in cornmeal; reduce heat to low, and simmer, whisking constantly, 3 minutes or until thickened. Remove from heat, and stir in steak seasoning and 1/4 cup Cheddar cheese. Spread cornmeal mixture into a lightly greased 11- x 7-inch baking dish.
2. Brown ground chuck in a large nonstick skillet over medium-high heat, stirring often, 10 minutes or until meat crumbles and is no longer pink; drain and transfer to a bowl.
3. Sauté onion and zucchini in hot oil in skillet over medium heat 5 minutes or until crisp-tender. Stir in beef, tomatoes, and tomato paste; simmer, stirring often, 10 minutes. Pour beef mixture over cornmeal crust. Sprinkle with remaining 3/4 cup cheese.
4. Bake at 350° for 30 minutes or until bubbly. Sprinkle casserole with parsley just before serving.
Italian Beef Casserole With Polenta Crust: Substitute Italian sausage for ground chuck and Italian six-cheese blend for Cheddar cheese. Prepare recipe as directed, sautéing 1 medium-size green bell pepper, chopped, with onion in Step 3.
Source: My Recipes