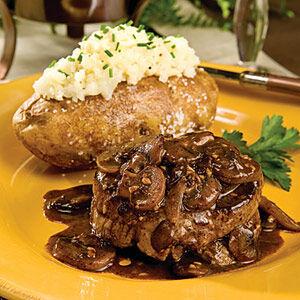 Ingredients:
5   tablespoons butter
1  large Vidalia onion, sliced
1  8  ounce package sliced mushrooms
2   teaspoons minced garlic
4  8  ounces beef tenderloin fillets
1/2  teaspoon garlic salt
1/2  teaspoon ground black pepper, divided
2   tablespoons olive oil
1   tablespoon all-purpose flour
1   cup beef broth
1/2  cup red wine
1/4  teaspoon salt
Directions:
1. In a large skillet, melt butter over medium heat. Add onion; cook for 6 minutes. Add mushrooms and garlic; cook for 5 minutes, stirring frequently. Remove pan from heat, and spoon mushroom mixture into a bowl.
2. Season both sides of fillets with garlic salt and 1/4 teaspoon pepper.
3. In the same skillet, heat oil over medium heat. Cook steaks for 5 to 6 minutes on each side, or until desired degree of doneness.* Remove from pan and place on a baking sheet in a warm oven.
4. Add flour to drippings in skillet and cook, stirring constantly, for 2 minutes. Gradually add broth, whisking until smooth. Add wine, salt, and remaining 1/4 teaspoon pepper. Cook for 6 to 7 minutes, or until slightly thickened. Add mushroom mixture; cook for 1 minute, or until heated through.
5. Spoon sauce over steaks to serve.
Source: Recipe.com