Courtesy of ourbeefkitchen.com
We have some cooler weather headed our way here in Kansas which calls for this ultimate comfort food…Salisbury Steak! I know I will be complaining when the dead of winter is here and snow is on the ground, but until then, I am anxiously awaiting cooler temperatures and my favorite season, fall.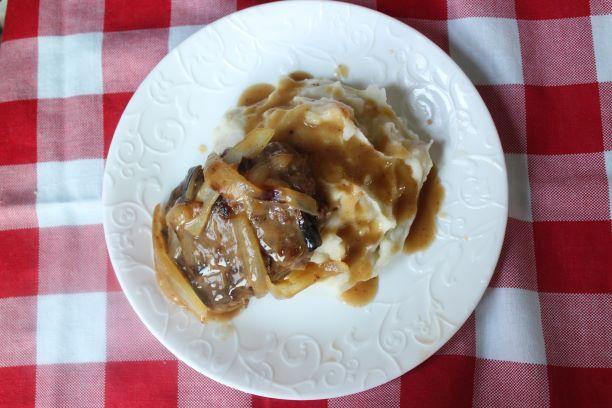 Ingredients
1 

large onion, 

sliced

3

 

Tablespoons

 

butter, 

divided

1.5

 

cups

 

beef broth or stock

1

 

Tablespoon

 

flour
Patty Ingredients
1/2

 

cup

 

Italian flavored breadcrumbs

1/2 

Tablespoon

 

ketchup

1/2 

Tablespoon

 

Worcestershire sauce

1/2 

teaspoon

 

mustard

1/2 

teaspoon

 

black pepper

1/2

 

teaspoon

 

McCormick Montreal seasoning (or any other steak seasoning)

1/2 

teaspoon

 

garlic salt

1 

pound 

ground beef
Instructions
In a large skillet with a flat bottom, melt 1 Tablespoon of butter and add the onions. Caramelize on medium/high heat.

While the onions are caramelizing, combine the first 7 patty ingredients.  Then add the ground beef and form the mixture into 4 oblong patties.

Remove the onions from the skillet and set aside.

Add 1 Tablespoon of butter in the skillet and let it melt.

Add the patties to the skillet, cooking approximately 4 minutes on each side.  Once they're cooked through, remove them from the skillet and set aside.

Add the last 1 Tablespoon of butter to the skillet, melt, then whisk in 1 Tablespoon of flour.

Pour in the beef broth and whisk until bubbly and thickened.

Add the patties back to the skillet, then add the onions back to the skillet.  Spoon the sauce and onions over the top of the patties.

Let it cook all together for about 5 minutes.
Recipe Notes
Recipe Source: adapted from Life with the Crust Cut Off