Courtesy of Our Beef Kitchen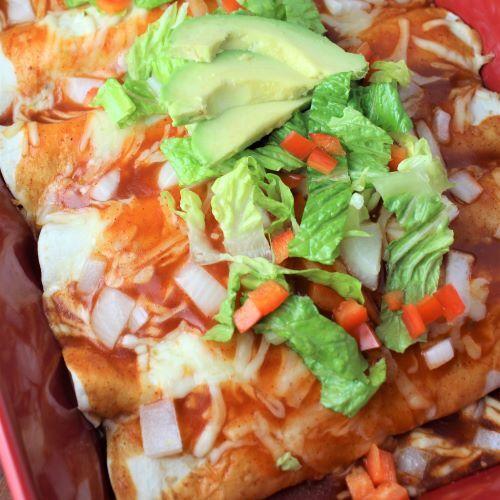 Before making this recipe, you must first make our Classic Pot Roast recipe, to get the meat for the shredded beef.
This recipe is easy to adapt depending on how much leftover beef you have i.e. you can adjust the measurements of the other ingredients if you just have 1 cup of beef left over or if you have 3 cups of beef left over.
Ingredients
1.5 cups leftover roast beef from Classic Pot Roast
1/3 cup salsa
1 Tablespoon lime juice
1 onion, diced
1 can red enchilada sauce
6 – 8 inch. tortillas (taco size)
2 cups pepperjack cheese, shredded
Instructions
Preheat the oven to 350°
Put the roast beef in a microwave-safe bowl and heat in the microwave for about one minute (time may vary depending on your microwave). (You just want it warmed up enough to shred. It will warm up completely in the oven).
Shred the beef with two forks.
To the beef, add the salsa and lime juice and stir to combine.
Dice up the onion and set aside.
Put a thin layer of enchilada sauce on the bottom of a 9×13 pan and set aside.
To each tortilla, add beef, onion and cheese. Roll up and put seam-side down in the dish.
Top the rolled enchiladas with the remaining enchilada sauce (and onion and cheese if there is any left).
Bake in the oven, covered with foil, for 15 minutes. Remove the foil and bake another 10 minutes.
Top with fixins' if you desire (like lettuce, tomato, sour cream) but they are good on their own.