Christmas is a special time often celebrated with family and food! Families have their traditional favorites that everyone would miss if it was not on the table. Wrapping up 2020, the staff at Feed-Lot wanted to share some of their holiday favorites with you.
About 26 years ago, my husband and I were spending our first Christmas together in Garden City, Kansas. The manager of the feedlot where he worked invited us to their home for Christmas dinner. It was the first time I had tenderloin for Christmas. That started a new tradition for my family and we've never looked back! .
— Jill Dunkel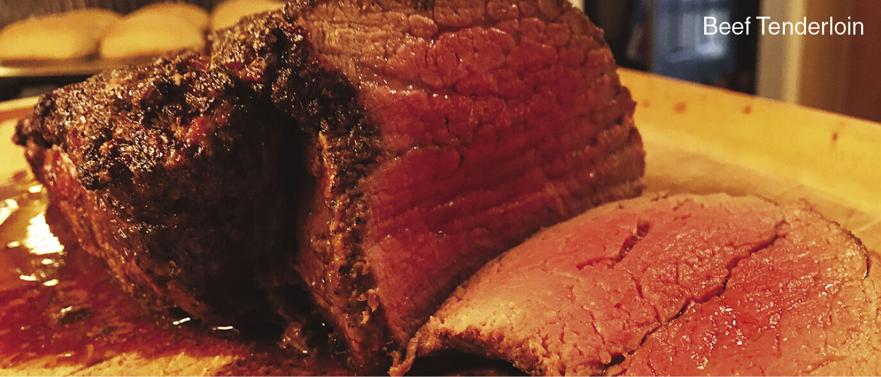 Beef tenderloin
Olive Oil
Montreal Seasoning
Preheat oven to 475.° Remove fat and silver skin. Brush olive oil over the entire tenderloin and liberally coat the meat with seasoning.
Place in the oven on a rack or broiler pan (covered in foil for easy cleaning) for 10 minutes at 475,° then lower the temperature to 425,° cooking until the internal temperature is about 130° for a finished product that is medium rare. Remove from the oven and let the tenderloin rest for at least 10 to 15 minutes. It will continue to cook during this time, so it's better to remove from the oven before your preferred final doneness.
This can also be cooked on a pellet grill. We suggest smoking on low heat for approximately an hour, then increasing the temperature to 400° until the internal temperature is 130.°
We plan on 1/2 lb per person, as this is a favorite Christmas leftover served straight out of the refrigerator.
Garlic Mashed Potatoes
A wonderful friend of mine, Vicky came to stay, I think it was about 8 years ago, so it was probably closer to 10! She made these amazing mashed potatoes for us one night and they have become our go to ever since. I'm also a big fan of vegetables and roasting the vegetables was my way of appeasing most peoples taste at the celebration table. While not everyone likes every vegetable, everyone liked at least one!
— Annita Lorimor
Garlic Mashed Potatoes
3½ lbs Russet potatoes
2 Tbsp Salt
2 Cups Half and half
6 Cloves Garlic
6 ounces Grated Parmesan
Peel and dice potatoes, making sure all are relatively the same size. Place in a large saucepan, add the salt, and cover with water. Bring to a boil over medium-high heat and then reduce heat to maintain a rolling boil. Cook until potatoes fall apart when poked with a fork.
Heat the half-and-half and the garlic in a medium saucepan over medium heat until simmering. Remove from heat and set aside.
Remove the potatoes from the heat and drain off the water. Mash and add the garlic-cream mixture and Parmesan; stir to combine. Let stand for 5 minutes so that mixture thickens and then serve.
Oven Roasted Vegetables
3 Tbsp olive oil
2 Tbsp whole-grain dijon mustard
3 tsp apple cider vinegar
1 tsp dried thyme
3/4 tsp kosher salt
1/2 tsp black pepper
1/2 tsp dried rosemary
1/4 tsp dried basil
1 lb. peeled and cubed butternut squash
1 lb. cauliflower florets
1 lb. brussels sprouts, – halved
8 oz baby purple or yukon potatoes, – halved or quartered
minced fresh parsley, for garnish
Preheat oven to 450° F degrees. Line a large baking sheet with parchment paper sprayed lightly with cooking spray. Set aside.
In a large mixing bowl, combine olive oil, mustard, vinegar, thyme, salt, pepper, rosemary and basil, and whisk. Add chopped squash, cauliflower, brussels sprouts and potatoes, stirring to coat.
Spread vegetable mixture in a single layer on prepared baking sheet. Bake for 20 minutes, stir gently, then bake another 15 minutes.
Serve garnished with minced parsley if desired.
Approximately 8 servings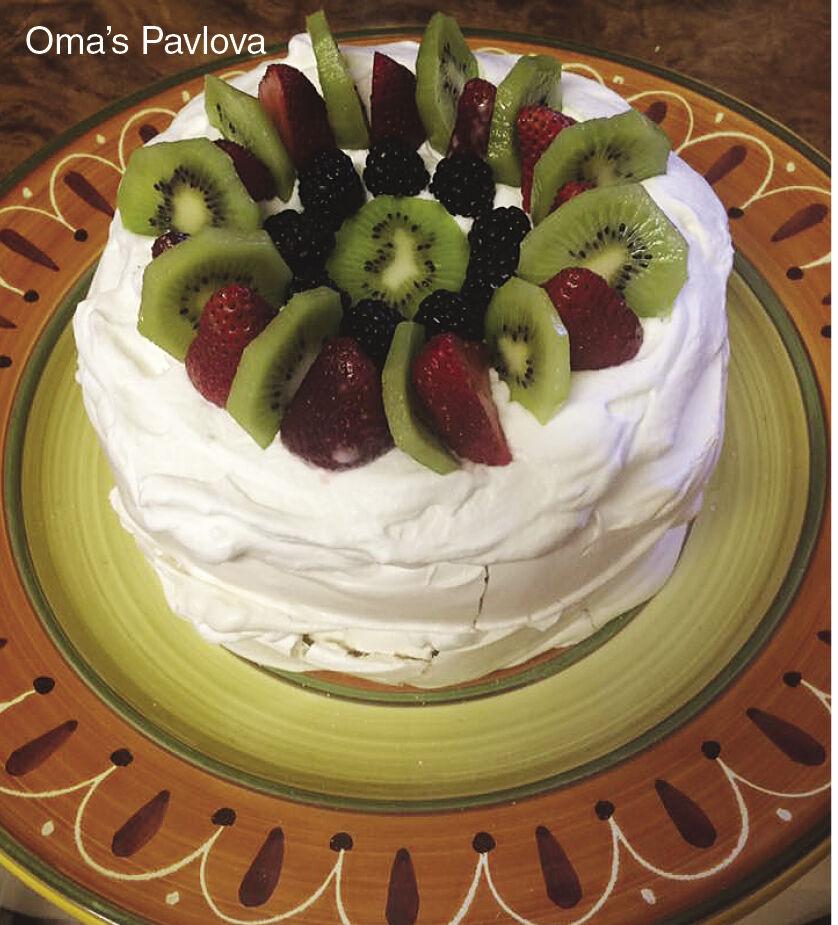 This is my Oma's (grandmother's) Pavlova recipe that I grew up with and looked forward to every Christmas & Easter. This dessert originated in New Zealand in the 1920's and is named after the Russian ballerina, Anna Pavlova. The Pavlova dessert is similar to a meringue, however it is crunchy on the outside and soft and creamy on the inside. Atop the Pavlova traditionally you will find fresh whipped cream, Kiwi fruit and an assortment of berries. This beautiful and decadent delight takes time and patience to prepare, but is well worth the wait.
— Amy Spillman
Oma's Pavlova
6 egg whites
2 cups fine bakers sugar
1 tsp vanilla
1 tsp malt vinegar
2 tsp cornstarch
2 cups heaving whipping cream, whipped
Fresh fruit
In a large metal bowl, beat egg whites until soft peaks.
Add sugar 1 tablespoon at a time, will take about 10 minutes.
Fold in vanilla, vinegar, and cornstarch. Mixture will be glossy, thick and have stiff peaks.
On baking sheets, place parchment paper. On the back side of paper trace 2 identical circles that will fit the bottom of your serving platter. Place on baking sheets, drawing side down so you can see outline through paper.
Place equal amounts of mixture in center of each circle, spread to form 2 matching layers.
Bake 1½ hours at 235° Fahrenheit. When finished, turn oven off, prop oven door ajar with wooden utensil and allow to cool for 1-2 hours.
Once cooled, carefully remove parchment paper from one pavlova layer, place on serving platter. Spread half of whipped cream then top with second pavlova layer. Top with remaining whipped cream and decorate with fresh fruit.