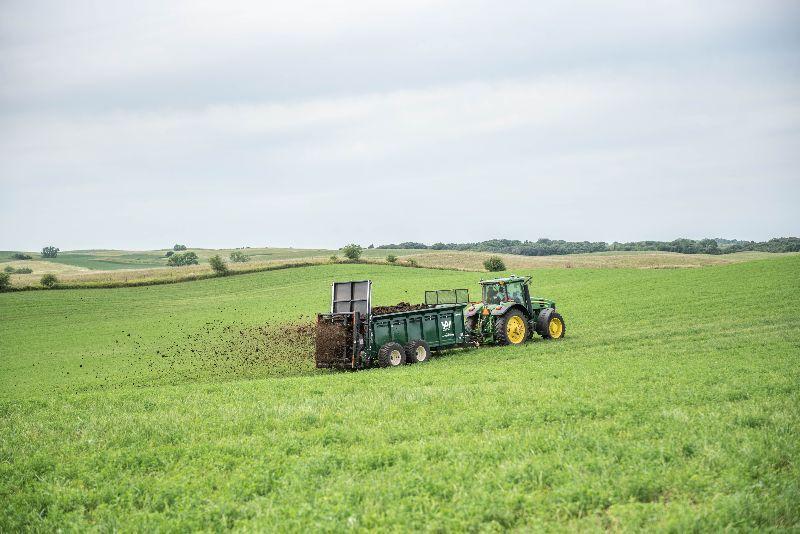 Art said it best, "We may be around muck all day but we don't muck around."
Searching for better built manure spreaders for those heaps of gold? Capture the benefits of applying livestock manure on your fields with Art's Way X Series manure spreaders. The X Series offers time-tested designs with serious upgrades — that means an upgraded floor chain with a limited-lifetime warranty, a guillotine slop gate and flared sides.
X Series Manure Spreaders
Operators who do the tough jobs want to make sure they're done right the first time. Recent improvements to Art's Way X Series manure spreaders help them do just that. Top features include:
1. ISOBUS-compatible rate control system: Gives operators real-time control to adjust application rates and gate height on the go. The exclusive system by Raven Industries Inc. makes it easy to produce readouts, which are designed to fulfill the increasing need for application documentation.
2. Choice of box sizes: Ranges from 700 to 900 cubic feet heaped capacity to meet the needs of a variety of operations. The X700 and X900 have tandem axles, dual drive gearboxes and flared sides.
3. Unique vertical beater placement: Sends out a consistent spread behind the machine, reducing the chance of clumps or dead spots when hauling load. The vertical beaters are removable, making it possible to haul forage, silage, snow, compost and hay by simply removing eight bolts and disengaging the driveline.
4. Flared sides: Provide a base for the bucket and a lower loading height. They also deliver extra capacity and prevent spillage compared to competitive spreaders with straight sides.
5. Dependable protection: Peace of mind comes with the X Series with its limited lifetime apron chain warranty. This plan will repair or replace any defective link or section at no cost for the original purchaser.
Click here to learn more.