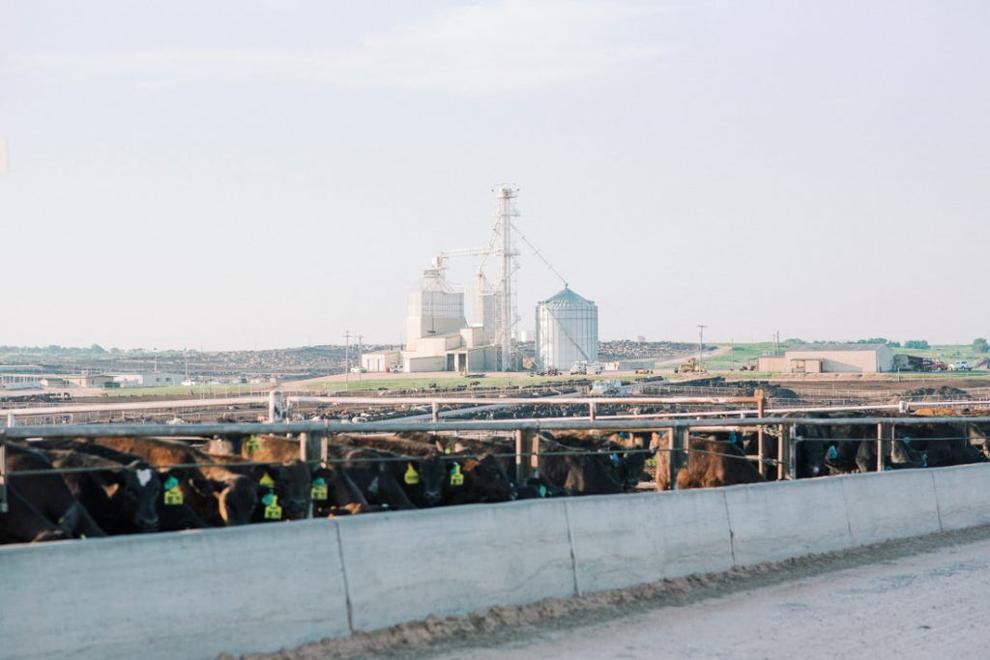 Weekly slaughter head counts are the key data points gauging feedyard currentness and record boxed beef values this spring. Outcomes in those two metrics, while both dependent on slaughter rate, are working at odds with each other.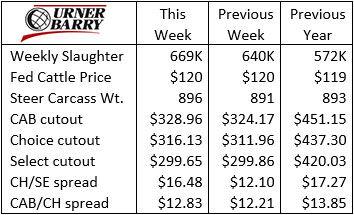 A typical May market is characterized by tight supplies of fed cattle to meet demand for Certified Angus Beef ® brand middle meats for grilling season; however, this May the cattle are reaching new heights for CAB and Prime percentages, but processing flow can't satisfy spring demand.
Last week's 669K slaughter total was a large highlight within a string of less robust weeks. Reports indicate that this week's total will be closer to 640K, as packers intend to ease the pace on Saturday, providing plant personnel a break for the Memorial Day holiday. Observance of the holiday will idle plants next Monday.
Notable international beef news includes last week's announcement that Argentina is suspending beef exports for 30 days in response to the country's reported near 50% annual inflation. Argentina supplies almost 25% of China's imported beef, leaving a significant short-term gap in China's needs.
This news is unsettling to the global market, as the supply loss portends higher global beef prices. Opportunity for increased U.S. beef sales to China is likely limited as a direct result of this 30-day abnormality. While China has shown excellent growth for U.S. exports, current domestic supply and demand fundamentals are overriding further immediate export gains. Beef supply from cattle qualified under China's import guidelines is currently another growth limiting factor.
CAB carcass cutout prices in last week's average were up another $4.79/cwt. with Choice up similarly with a $4.17/cwt. increase. Select product was left on the sidelines, averaging a weekly decline of $0.21/cwt. The Choice/Select spread widened to $16.48/cwt., leaving attractive opportunity for grid sellers to gain premiums for Choice, CAB and Prime carcasses.
Ribeyes drove most of the market increase last week as custody of product seems more important to end users than price. Demand has been red hot ahead of Memorial Day and Father's Day lurks just a few weeks later on the calendar. Calls for cheaper beef prices to round out Beef Month remain unsatisfied in what has been an abnormal upward pricing pattern thus far in May.
CARCASS YIELD AND YIELD GRADE
The spring fed cattle market brings on the spring born, calf-fed cattle in larger proportions, and that means differences in yield. That's not to say "yield grade" but rather "carcass yield," meaning a measure of hanging carcass weight as a percent of live weight.
The earliest spring marketing groups of the finished calf-fed cattle typically present a lower carcass yield as a result of fewer days on feed compared to their contemporaries sold weeks later. As cattle mature toward the end of the feeding period each pound of gain contributes more to what will remain on the carcass and less to what ends up in offal. The head, hide and organs grow at a slower pace than muscle and fat. Thus, each pound gained at the end of the feeding period increases carcass weight in relation to live weight.
Calf-feds marketed in April are advantageous in that they often capture the high in the spring cash fed cattle market. However, when sold on a grid, the April finished cattle often fall short of carcass yield targets (i.e. dressing percentage), giving up some carcass profitability to fewer pounds sold on the rail. Depending on genetics and management, these cattle can certainly add premiums on a grid, but some risk to carcass yield does exist.

Moving on to another important component of grid marketing is the other "yield" factor, which is yield grade. While yield grade is not totally detached from carcass yield, it is certainly not the same thing. Yield grade, by definition, is the estimation of the percentage of closely trimmed retail cuts of beef from the carcass. It's a measure of the cutability of the carcass or the lean meat to external fat ratio.
The beef packing sector has largely moved away from asking USDA graders to assign yield grades to carcasses over the past decade or more. Instrument grading technology has provided a means to accurately assess yield grade for grid payment and procurement assessment purposes. It's estimated that roughly 20% of fed cattle carcasses are receiving a USDA grader's yield grade score at this time.

Given the small proportion of yield grades assigned by USDA and consequently represented in the agency's database, we can only infer trends across the fed cattle population. USDA figures show that the fattest carcasses, Yield Grade 4s and 5s, have only marginally increased over the past 5 years.
Observations from the field, as well as dramatically heavier carcass weights in 2020, suggest that the Yield Grade 4 and 5 percentage totals in the USDA dataset are likely not a good snapshot of the entire fed cattle supply. Given the opportunity to add the packers' carcass camera data to the USDA data there is a strong likelihood that Yield Grade 4 and 5 carcasses were more prevalent than USDA indicates.
COW SLAUGHTER UP, SOME DROUGHT RELIEF
The central portion of the country received widespread rain in the past week or so, while the gulf coast saw heavy rains. The northern plains states saw some reprieve from drought conditions, although they remain behind annual averages in the western Dakotas and Montana.
There has been little significant rainfall in western and southwestern states representing the worst of the drought. Weekly federally inspected slaughter head counts have been quietly underpinned by a 10,000 to 11,000 head increase in beef cows as compared to 2019 and 2018, respectively. Drought implications, at least in part, are driving a number of cows out of the country.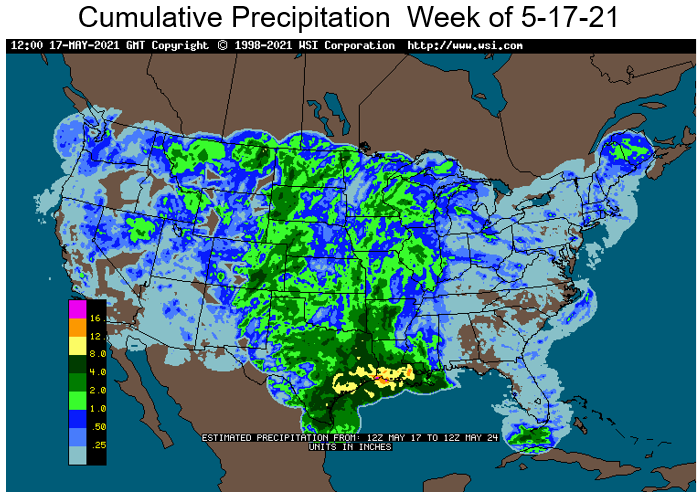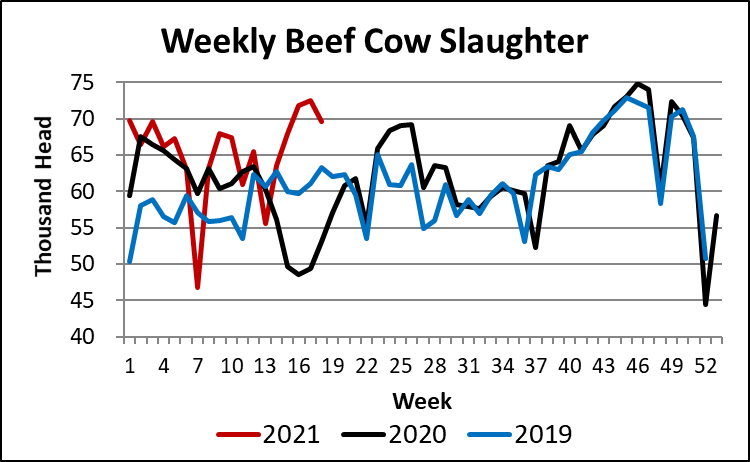 As industry sources (us included) quote weekly, federally inspected slaughter totals, it's important to understand that cow slaughter is larger in 2021. This tends to mute the tone of the fed cattle processing speed due to added cow slaughter in the total head count.