The Cattle Industry Convention is a great place to network, see friends old and new and discover exciting new products. There's no shortage of information in the Cattlemen's College and the Trade Show. Be sure to schedule a few hours to wind through all of the booths. Cool new inventions as well as updated technologies abound. We've highlighted a few of those for you below. And while you're meandering, stop by and see us at the FEED•LOT booth. We are Booth #200. Let us quench your thirst with a complimentary bottle of water and a free magazine. We look forward to visiting with you, and safe travels to Houston.
Pit-King

It's a manure treatment you can actually get pumped about. Pit-King is Agri-King's manure digestant product containing a proprietary blend of enzymes, microorganisms, co-factors and Agri-King's patented Bacillus strain. Pit-King's multi-enzyme blend creates a rapid breakdown of undigested manure solids, while its unique microorganism combination continues manure solid decomposition and also reduces compounds like ammonia. Plus, when you sign up for the Pit-King Maintenance Subscription Program, you can choose to have Pit-King shipped directly to your farm monthly or quarterly at a discounted price. For more information on Pit-King, contact your local Agri-King representative.
Booth: 1800 — www.agriking.com/pit-king
SmithCo

For more than 25 years, the mission of SmithCo Side Dump Trailers has been to design and build the world's best side dump trailers, with superior stability, easier unloading, and faster cycle times than conventional dump trailers. Today SmithCo produces more side dump trailers and trailer models than any other company. Our trailers serve our customers' diverse hauling needs with a focus on agriculture. The company was founded on the values of honesty, integrity, and outstanding customer service. We live these values every day by building side dump trailers the right way, under the careful watch of our world-class engineers.
Silo Guard II

Silo Guard II helps ensure the health of your forages and feedstuff with its unique approach to preserving crops in a silo. Silo Guard II's formulation produces sulfur gases that retard the growth of undesirable aerobic bacteria and fungi (mold and yeast). As silage is being fed, Silo Guard II helps control the aerobic deterioration, reducing dry matter loss and deterioration of silage quality and palatability. This results in less spoilage during feed out. All of these factors working together lead to improved feed conversion of the silage, increased dry matter recovery, reduced heating and a more nutritious product.
Booth: 1505 — www.isfglobal.com
Feed•Lot Magazine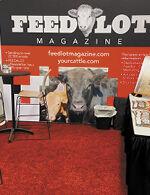 For 30 years, FEED•LOT has delivered news cattlemen and women can use to save money or make money, as well as industry information pertinent to their operations. We love visiting with readers. Got an idea for an article or a unique situation you've experienced? Let us know! Many of our article ideas come from subscribers. Stop by the booth to meet Annita Lorimor, Jill Dunkel, Amy Spillman and Katelyn Steffens. We have complimentary bottles of water to "wet your whistle" so you can continue to enjoy the trade show. Come see us....
Booth: 200 — www.feedlotmagazine.com
So, you've Gone to Texas . Now what? Aside from convention, it would be silly not to give added value to the trip.
It's hard to imagine a trip to Houston without a visit to the Space Center Houston and the NASA Johnson Space Center, known around the world as the home of NASA Mission Control, International Space Station Mission Control and astronaut training. More than 400 artifacts in special and permanent exhibits tell the story of America's space program.
Guests can see the restored Apollo Mission Control Center, astronaut training facilities, flown spacecraft such as Apollo 17, and see actual moon rocks in the world's largest collection of lunar samples for public view.
Beyond the general admission experience, you can become a space expert with in-depth explorations of the center's collection in the Space Expert Tour.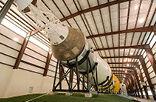 If that's not enough, you can have Breakfast with an Astronaut for the ultimate glimpse into the space program from an astronaut's perspective while enjoying a delicious breakfast catered by Wolfgang Puck.
Most general admission itineraries take from 2 to 7 hours. Something for all ages. Tickets can be pre-purchased online.
1601 NASA PKWY
Houston, TX 77058
281-244-2100
General Admission: Adults $29.95 Seniors $27.95 Kids 4-11: 24.95 Kids 3 and under are FREE but do require a reservation
Space Expert tour: $69.95
Breakfast with an Astronaut: Adults $99.95 Kids $79.95
Regular hours: 10 a.m. – 5 p.m.
Check website, seasonal hours may apply
Schedule online
Parking is $5 per vehicle, and all ticket purchases will automatically be charged parking for one vehicle. The last tram of the day leaves the parking lot at 3 p.m.
---
Houston, We've Had a Problem and you have 60 minutes to save the crew.
If it's a unique take on the space experience you're looking for, check out the Apollo 13 themed escape room. Working under pressure, your team will need to help your astronauts return home safely from space.
For 6-12 players. Kids 10-15 must be accompanied in the room by a playing adult. Takes around 1 hour 20 minutes and you need to arrive at least 15 minutes early. Includes complementary photos with props.
125 W Gray Street
Houston, TX 77019
Admission: 39.95 per person
Ages 10 and up only
www.escapehunt.com/us/houston/
Advance book online
---
Every trip must have its selfies. How else would you know you are there?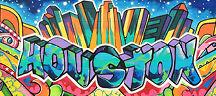 The Houston Graffiti Building in Houston's East End is the ideal spot. Nearly every square inch of wall is covered in colorful street art - murals, slogans, scratchy tags, and a regular giant sign that shows off your trip to Houston.
1503 Chartres Street
Houston, TX 77003-4304
Open 24 hours
---
Or you can pose in front of the Beer Can House. More than 50,000 individual cans were used to create this shining residence in the Rice Military neighborhood.
22 Malone Street
Houston, TX 77007
(713) 926-6368
General Admission: Adults $5, Kids under 12 FREE
Tours: Saturday-Sunday 2-6 p.m.
www.facebook.com/TheBeerCanHouse/
---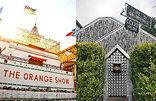 Also in the East End is Houston's Ode To Orange. That's right. Orange. The Orange Show Center for Visionary Art is a work of folk art built by one man over 25 years from discarded artifacts and materials – a montage of museum, maze and stage - all dedicated to orange. Advance tickets required.
2401 Munger Street
Houston, TX 77023
General Admission: Adults $5 Kids 12 and under FREE
Saturday-Sunday 10 a.m.-2 p.m. Tours take place every 30 minutes.
---
Museums
A trip to Houston deserves time spent in the city's Museum District, a collection of museums, galleries and attractions including such unique venues as the Art Car Museum, the Holocaust Museum, and the National Museum of Funeral History.
Of the 19 sites in the District, 11 are FREE all the time.
Visitors to Museum District are encouraged to park along the METRORail line and take the train to the Museum District. Parking is available at the Fannin South Park and Ride, located at 1604 West Bellfort (@ Fannin St., just outside of the 610 Loop South), for $3 for the day.
www.houstonmuseumdistrict.org/
---
One of the more popular attractions for young and old in the District is the Houston Museum of Natural Science, where you can explore tens of thousands of artifacts spanning everything from Native American culture to paleontology, seashells, and local wildlife. The museum includes Burke Baker Planetarium, Cockrell Butterfly Center and the George Observatory.
5555 Hermann Park Drive
Houston, TX 77030
(713) 639-4629
General Admission: Adults $25 Kids 3-11 $16 Kids 2 and under are FREE
Permanent Exhibits Free on Thursdays, 2-5 p.m.
Regular hours: Daily 9 a.m.–5 p.m.
---
The Health Museum houses 3-D anatomy models and interactive exhibits that explore the human brain and body. Ride a bicycle with a skeleton, sit on giant teeth, learn how the heart pumps blood.
1515 Hermann Drive
Houston, TX 77004
(713) 521-1515
General Admission: Adult $10 Kids 3-12 and seniors $8 Kids under 2 FREE
Free Family Thursdays 2-7 p.m.
Special exhibits may require additional fee
Hours: Monday-Saturday 9 a.m.-5 p.m. Thursday 9 a.m.-7 p.m. Sunday noon-5 p.m.
---
Ranked the No. 1 children's museum in the U.S., the Children's Museum of Houston is a must see – kids or not. FlowWorks is a state-of-the-art exhibit that teaches about water through giant waves. Young minds learn how to run a city at Kittropolis. How does it Work? Gives interactive insight into the workings of everyday life.
1500 Binz Street
Houston, TX 77004
(713) 522-1138
General Admission: Adults and Kids $12 Seniors $11 Kids under 1 FREE
Free Family Night Thursdays 5-8 p.m.
Hours: Tuesday-Saturday 10 a.m.-6 p.m. Thursday 10 a.m.-8 p.m. Sunday Noon-6 p.m.
---
Like the Children's Museum, the Museum of Fine Arts Houston is billed as one of the top art museums in the country. An enormous collection of more than 65,000 works of art, covering more than 6,000 years of artistic history, it's easy to spend a half or whole day there. The museum provides free admission to active members of the U.S. military and reserves with valid ID, as well as to military families with dependent cards.
1001 Bissonnet Street
Houston, TX 77005
(713) 639-7300
General Admission: Adults $19 Seniors $16 College Students 19 and over with ID $12 Kids 13-18 $12 Kids 12 and under FREE
Addition admission for special exhibits.
General Admission is FREE on Thursday courtesy of Shell Oil Company.
Hours: Wednesday 11 a.m.-5 p.m. Thursday 11 a.m.-9 p.m. Friday-Saturday 11 a.m.-6 p.m. Sunday 12:30-6 p.m. Monday-Tuesday closed
Parking options and a map are available on the website.
---
The Contemporary Arts Museum Houston showcases some of the best and most exciting international, national and regional art of the last 40 years.
5216 Montrose Blvd
Houston, TX 77006
(713) 284-8250
Admission: FREE
Hours: Tuesday-Wednesday 10 a.m.-7 p.m. Thursday 10 a.m.-9 p.m. Friday 10 a.m.-7 p.m. Saturday 10 a.m.-6 p.m. Sunday Noon-6. p.m. Closed Monday
---
The Houston Center for Contemporary Craft is one of the few venues in the country dedicated exclusively to craft at the highest level, highlighting art made of glass, fiber, clay, metal or wood.
4848 Main Street
Houston, TX 77002
(713) 529-4848
Admission is Free.
Hours: Wednesday-Saturday 10 a.m.-5 p.m. Sunday Noon-5 p.m.
---
If it's a moment of Zen you're after, check out Rothko Chapel, where religion, art and architecture intermingle. A tranquil meditative environment inspired by the mural canvases of American painter Mark Rothko, the one man art museum showcases 14 of his enormous paintings.
3900 Yupon Street
Houston, TX 77006
(713) 524-9839
Admission: Free
Hours: Tuesday-Sunday 10 a.m.-6 p.m.
---
Near the Museum District sits Hermann Park, 445 acres in the midst of the city that houses McGovern Centennial Garden and the Arboretum & Nature Center, with 5 miles of walking trails that skirt through forests, meadows, and ponds.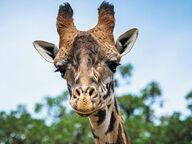 Hermann Park is also where you will find the Houston Zoo, home to more than 4,500 exotic animals representing more than 800 species. The zoo offers a range of intimate animal encounters like a sloth meet and greet, alligator feeding, walking a cheetah, or a sea lion painting session.
Make sure to stop by the "Plan Your Day" kiosk upon arrival for information on special animal activities during your visit.
6200 Hermann Park Drive
Houston, TX 77030
(713) 533-6500
Admission: Adults $22.95 Kids 2-11 $19.75 Seniors $17.95 Kids 1 and under FREE
Free Tuesdays are sponsored by PNC Bank.
Hours: Daily 9 a.m.-6 p.m.
---
Organized outings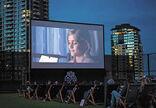 There are many ways to see the sights of Houston – bus, bike, horse – rooftop.
You can see the city from new heights with an outdoor rooftop movie. The venue features iconic movies, comfortable seating, food and drink.
1700 Post Oak Blvd.
Houston, TX 77056
Admission: $13.50-$24.99 depending on age and type of seating.
Check the website for showings.
www.rooftopcinemaclub.com/houston/
---
Operation City Quest of Houston lets you discover the city in a fun and different way. Download the app to guide you through a scavenger hunt.
Find items and do funny challenges in any order you like to collect points. The hunt generally takes around 2 hours.
900 Smith Street
Houston, TX 77002, USA
Admission: From $10
Hours: Wednesday-Sunday 11 a.m.-5 p.m.
---
Houston is a diverse city rich in history, constantly evolving culture, beautiful historic neighborhoods, modern skyscrapers, world-class activities, and great food and drink.
It's also billed as the most haunted city in America. Nightly Spirits capitalizes on that bit of trivia with an array of walking and tasting tours with friendly ghosts in mind. You can do a family friendly ghost tour, a haunted pub crawl or a food tour.
Tours take from 1 to 3 hours, involve about 1 mile of walking, and cost $20 per person and up. The pub crawl is for age 21 and over only. Others are for all ages.
www.nightlyspirits.com/houston-ghost-tours/
---
If you're more about the drink than the story, the Historic Houston Craft Cocktail Tour might be for you. The tour features a variety of libations from some of the city's most talented and creative mixologists, as well as early Houston historic sites. Check availability online. Tour lasts around 2.5 hours.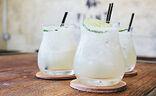 Market Square Park
301 Milam Street
Houston, TX 77002
1-855-275-5071
Admission: $80
---
Just looking for a good bar? You won't need a tour guide to find Le Carafe wine bar.
Housed in a building built in 1847, the historic – and probably haunted – dive is believed to be the oldest bar in Houston. La Carafe offers an intimate and ambient atmosphere, fit with a chandelier, wax-crystallizing candles, antique relics of times past, and a good jukebox. The second-story balcony gives an enchanting view of downtown.
813 Congress Street
Houston, TX 77002
713-229-9399
Ages 21 and up
Hours: 2 p.m.-2 a.m.
---
For those who prefer to do their imbibing by the light of day, Eight Row Flint in the Heights District is listed as the best day drinking establishment in the city, with a strong cocktail list and plenty of snacks.
1039 Yale Street
Houston, TX
(713) 880-8463
Ages 21 and up
Hours: 11 a.m.-Midnight
www.agricolehospitality.com/eight-row-flint/
---
The beach awaits
Have you dipped your toes in the ocean? Are you tired of the city? Needing a beachfront holiday to complete your trip? Look no further than Galveston, just an hour drive from Houston.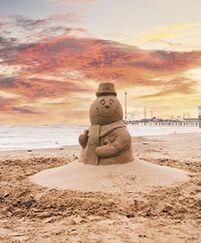 An island city on the Gulf Coast, Galveston is packed with history, atmosphere and activities. There's Seawolf Park, Texas Seaport Museum, the Galveston Art Center, the Red Light District, fishing, shopping and dining.
Or you could just spend a day on the beach. In February. Priceless.