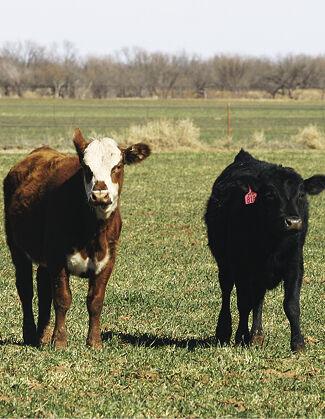 Cattlemen with stocker cattle targeted for growing or grazing programs have several options when it comes to growth enhancing technologies. Implants – whether short term or long duration – supply one of the best returns on investments when it comes to technology, according to two industry experts. However, deciding which implant is best is not black and white. Several factors should be considered when choosing the most cost-effective implant for a stocker program.
"First off, we definitely encourage a client to utilize growth technologies," says Matt Quinn, PhD, Production Consultant, Feedlot Health Management Services. "Then we will look at what type of implant makes sense for that operation, what type of forage the cattle are grazing, forage availability, length of grazing and other factors to determine the most cost-effective implant. A lot of it comes down to what the goal is for the cattle and the set up of that particular operation."
Quinn also recommends looking at the entire program before deciding on an implant. The parasiticide approach, the timing of rehandling cattle for vaccinations or shipping, the target for the cattle, the grazing situation and the marketing plan all should be part of the implant decision.
Bryan Bernhard, PhD, Beef Strategic Technical Services, Zoetis, agrees and says it's not a one-size-fits-all scenario.
"If I'm running cattle for 90 days, a traditional, shorter-duration implant is sufficient. But if I'm grazing those cattle for several months, a longer duration implant makes sense. Each are a different tool in the tool box," Bernhard says.
"Consider the entire time of ownership – not just grazing days – when developing an implant strategy," says Bernhard. "I wouldn't put cattle in a backgrounding yard for two-three months before turn out and not use an implant during that time."
Quinn agrees, and says ease of reimplanting is another factor to consider. "Within the ownership period, what do the segments of production look like? If cattle are in a grow yard for three months to straighten out and get ready for wheat, do you have the flexibility to implant them now and again prior to turn out? Or are your facilities and personnel somewhat limited and you don't want to handle those cattle again? If so, then a long acting implant would make sense."
Cattle going directly to wheat have other considerations, lack of facilities and costs associated with gathering cattle limit a producer from being able to reprocess those calves if need. Having an implant onboard that covers the entire time of ownership is crucial.
Bernhard adds, "A long acting implant increases operational efficiency and flexibility. You only handle those cattle once versus twice, and still get implant coverage all season long. Just because an implant is labeled for up to 200 days, doesn't mean you have to have 200 days of ownership to justify it. If you own cattle for 140 days or more, I would seriously consider a long duration implant like Synovex ONE Grass. The last thing you want to do is run out of implant the last month or two of the grazing season."
Nutrient and forage availability, along with gain goals, can also influence implant decisions. Some grazing programs merit an aggressive implant. For others, a moderate implant makes more sense. For example, a producer running stockers on corn stalks over the winter waiting for the market to roll over would have different gain goals than someone running stockers on wheat pasture looking for big gain.
Plans beyond the stocker phase could also be a consideration. Providing an implant history to the feedlot helps continual optimization of gain.
"From a feedlot perspective, the more information I can have about what the cattle received in the stocker phase, the easier it is to plan," Quinn says. "We might take advantage of some payout left in an implant. Or if the implant is almost gone, we can go ahead and reimplant for the feedlot."
Quinn says sometimes producers will ask what is the best implant. But, he says, it's not that simple. "There are a lot of great implants out there. We try to decide what is the most cost-effective strategy to use."