Elanco Animal Health Incorporated (NYSE: ELAN) today announced the U.S. launch of Increxxaä (tulathromycin injection) for the treatment of bovine respiratory disease (BRD). Increxxa quickly targets the site of infection in the lungs for fast-acting performance combined with a long half-life, giving cattle more time to bolster an effective defense against BRD.*1 The launch marks a new option for producers to complement the company's already extensive portfolio of BRD solutions. *Clinical relevance is unknown.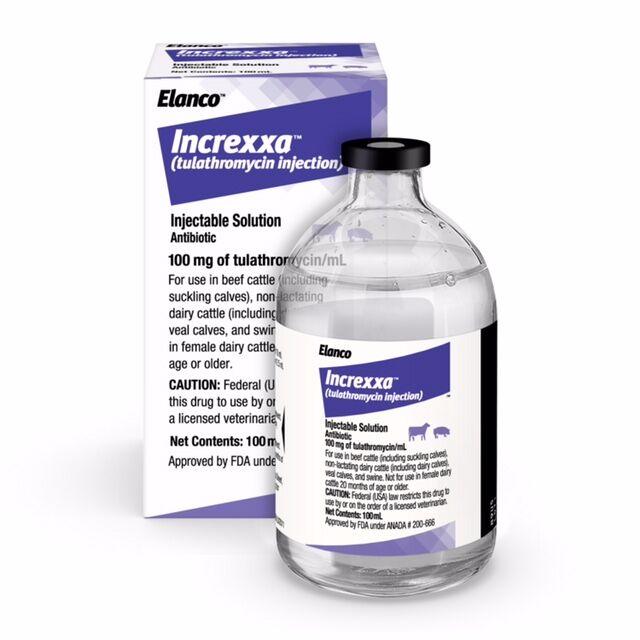 "BRD contributes to 40-50% of all cattle mortality. We recognize what a challenge it can be for the cattle industry and are excited to offer Increxxa to veterinarians and producers, giving them yet another solution to help combat this respiratory disease in cattle," said Jose Simas, executive vice president, U.S. farm animal business at Elanco. "Like all Elanco products, veterinarians and producers can be confident that Increxxa is held to the company's uncompromising standard of potency, uniformity and quality," Simas added.
"Studies consistently show tulathromycin, the active ingredient in Increxxa, helps decrease the negative effects of BRD, such as morbidity and mortality, when used metaphylactically," noted Bill Platter, executive director, U.S. beef at Elanco. "This can lead to more profits by avoiding return trips to the hospital pen and getting cattle back to the feedbunk."2
With the availability of Increxxa, producers have another viable option to help support the responsible use of antibiotics in their herds. Elanco believes we must all do our part because advancing antibiotic stewardship is important to both public and animal health. Similar to actions in public health, Elanco is committed to the responsible stewardship of antibiotics in veterinary medicine.
ABOUT BOVINE RESPIRATORY DISEASE
Factors putting cattle at risk for BRD include weaning, age, undernutrition, parasites, handling, dust, acidosis, commingling, transportation, time, weather, season and vaccination/immune status.
Respiratory problems account for the highest percentage of deaths in cattle and calves due to nonpredators.3 Additionally, BRD accounts for 70-80% of all feedlot morbidity and 40-50% of all mortality.4 In feedlot operations, more than 95% of herds are impacted by BRD.5 BRD has a variety of impacts on beef cow-calf productivity. In addition to mortality, calves that survive summer pneumonia typically have reduced weaning weights.5
ABOUT INCREXXA
Increxxa is indicated for the treatment of BRD and control of respiratory disease in cattle at high risk of developing BRD associated with M. haemolytica, P. multocida, H. somni and Mycoplasma bovis in beef and non-lactating dairy cattle. It is also approved for treatment of infectious bovine keratoconjunctivitis (IBK) associated with Moraxella bovis and treatment of bovine foot rot (interdigital necrobacillosis) associated with F. necrophorum and P. levii.
In suckling calves, dairy calves and veal calves, Increxxa is indicated for the treatment of BRD associated with M. haemolytica, P. multocida, H. somni and M.bovis. More information on the entire Elanco cattle portfolio is available at elancolivestock.com.
IMPORTANT SAFETY INFORMATION
Not for human use. Keep out of reach of children. Do not use in animals previously found to be hypersensitive to the drug. Increxxa has a pre-slaughter withdrawal time of 18 days. Do not use in female dairy cattle 20 months of age or older. For complete safety information call: 800-428-4441.
For more information about Increxxa, producers should consult their veterinarian or Elanco representative. For technical product information or to report an adverse event, call 800-422-9874. For customer service, call 877-352-6261.
ABOUT ELANCO
Elanco Animal Health Incorporated (NYSE: ELAN) is a global leader in animal health dedicated to innovating and delivering products and services to prevent and treat disease in farm animals and pets, creating value for farmers, pet owners, veterinarians, stakeholders, and society as a whole. With nearly 70 years of animal health heritage, we are committed to helping our customers improve the health of animals in their care, while also making a meaningful impact on our local and global communities. At Elanco, we are driven by our vision of Food and Companionship Enriching Life and our Elanco Healthy Purpose™ Sustainability/ESG Pledges –all to advance the health of animals, people, and the planet. Learn more at www.elanco.com.