Agricultural Economist Derrell Peel attributes the current state of beef markets to what he terms "a series of black swans" from processing plant fires to weather to labor shortages and the lingering impact of COVID. Peel is Professor of Agricultural Economics and Extension Specialist for Livestock Marketing for Oklahoma State University.
"One of the characteristics of black swan events is it is difficult to predict the aftermath," adds Katelyn McCullock, Center Director and Senior Economist for the Livestock Marketing Information Center.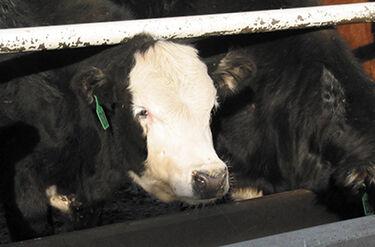 That has left the markets in a reactionary state. Add high feed prices to the picture and beef producers are growing weary. But, Peel says they should also be hopeful for 2022.
"We could all use a year of relative stability," says Peel. "People are tired of being reactive, tired of playing defense, and feeling like the situation is volatile with no help in sight. Still, the fundamentals are there and demand is good. We will work through this."
The main force continuing to drive markets has now become a familiar old story: COVID.
Processing plant closings due to the pandemic created a backlog of cattle at feedyards in 2020 that 2021 is still trying to clean up.
"COVID is lingering," says McCullock. "But it's not the same as 2020. Then we saw a sharp, immediate reaction. Now we're seeing longer influences. It will take time to work through it all."
The September USDA Cattle on Feed Report showed marketings at 99% of one year ago, with 11.234 million head on feed September 1, down 1.4 % from 2020, but 6.5% above the 5-year average. Around 43% of placements weighed more than 800 lbs., indicative of the continuing bottleneck.
A tough year
The backlog began April-June of 2020.
Correction made some progress September-November, but the bulge carried over into the new year and continued into summer.
By then, other forces were at play.
"There's little doubt drought conditions and subsequent herd liquidations have had an impact," says Peel. "I hate to use the term perfect storm, but that's the best way to describe the drought running into the pandemic."
He says herd liquidations are included in the increase in cows to market seen in mid to late 2021, but the specific impact gets lost in the national statistics. "To the individual producer it is devastating," says Peel. "But the impact is personal and regional. Watching the cattle on feed numbers, it is difficult to pick out that specific influence."
From the statistical perspective, efforts producers are taking to lessen the impact of the drought cloud the view. Early weaning this summer and early fall/winter culling have spread out the market influence. "We're going to have to see the net at the end of the year to get the full picture of this slow moving ice-berg. We don't yet know the long term impact of the liquidations," says Peel. "Some of the culled cows would have been culled anyway."
Winter weather may further influence some producer's decisions, and despite a year-to-date increase in cows to market, the cull cow market remains strong.
Like the drought, Peel says it is difficult to pick out numbers directly related to other severe weather events due to their regional nature.
Fires, winter storms, and hurricanes have all been disastrous for their regions. Numbers on how many calves have been lost in the Southwest won't be available until January; estimates are at least 30,000 in last winter's major storm alone. "These events really hurt some people," says Peel, "but it speaks to the size of the industry that there is not a huge industry impact."
The ongoing problem
For at least the past two years, the resiliency of the beef supply chain has been tested.
In 2000, Conagra lost a plant to fire that was never rebuilt. In 2007, Tyson ceased slaughter at its Emporia, Kansas, plant after a fire. In 2013, it was Cargill in Plainview, Texas. Tyson, 2019. JBS in Nebraska, just this last September. Then there was the JBS cyber attack. And the trade tariffs.
It all happened in an environment of 20 years of reduced processing capacity after an excess for 30 years. "About 2016 the coin flipped, and we went from net slaughter capacity to net lack of slaughter capacity," says Peel. Add to that short-term closures due to COVID and continuing labor issues, and "Fed cattle have been basically flat, on a long, slow grind, bumping up against capacity."
New mid-sized plants coming online will pick up some of the capacity needs, though Peel cautions that all the current projects combined equal about one major plant, and many current plants are 40 years old and facing technology and space issues. Around two dozen projects in the works won't solve the long-term problem, but Peel says they may help the industry turn around and grow.
Increased costs
Added to Peel's perfect storm scenario is the high cost of feed.
"The cost of gain is up significantly," says Peel. According to the Kansas State University Focus on Feedlots summary, average cost of gain last year was $82 cwt, compared to $110 now.
The corn belt is looking at the second largest corn crop on record, with prices fueled by high Chinese demand.
With a push from the drought, hay is costing upwards of $200 a ton for alfalfa and $150 for other types, according to LMIC.
The obvious solution for the feedyard is pay less for feeder cattle, but Peel and producers know that market is controlled by supply and demand, not choice.
Peel expects to see a change in the type of cattle producers choose to handle, with the market deter-mining where weight gain can most profitably be accomplished.
"There's opportunity here for the stockers as it becomes more economical to put pounds on in the country before cattle hit the feedyard," says Peel.
Not all bad news
There are opportunities. And bright spots.
Despite widespread shipping issues, beef exports have only been mildly affected. Peel suspects the need for special handling and refrigeration likely helped. Beef showed record exports during 2021, but McCullock cautions that won't continue indefinitely, and interruptions can be expected as various coun-tries open their economies post-COVID at different rates.
Domestic consumer demand for beef remains strong. COVID created ripple effects in consumer purchases as people shifted from dining out to cooking at home, but those ripples are ironing themselves out as the product mix changes to accommodate specific markets. "There's money out there to spend, and enough consumer data to keep grad students busy for some time," says Peel.
The price of hides, considered a macro indicator, is at a 5-year high.
Cases of BSE cropping up in South America are causing concern, but not significant market impact.
For those in drought areas looking at liquidation, Peel says, "Hold on if you can. If you can find a way to feed those cows, future calves will be worth it."
McCullock agrees. "Those producers who can hold on will see higher calf prices in deferred years along with opportunities for replacement heifers," she says. She expects the January 1, 2022 report to show a 2% decline in the beef herd, nudging supply and demand forces in the right direction.
Peel expects producers to see average live market fed prices around $127 cwt this quarter, rising to $129 after the first of the year, with much of the year riding in the high $120s to low $130s, as both feeder and fed cattle numbers tighten. "We could hit $140 briefly, but we won't stay there for long."
He expects to continue to see year over year increases for at least the next 2-3 years – barring any major black swan events.