A High Capacity, High Performance, 3-in-1 Pull-Type Spreader
New Leader Manufacturing (NLM) today announced the introduction of its latest New Leader® spreader: the NL600 high throughput 3-in-1 pull-type spinner spreader. The NL600 is a multi-purpose, multi-season spreader that offers growers and custom applicators the ability to spread compost/litter, fertilizer, and BioSul at higher rates and faster speeds, maximizing their time in the field and investment in their equipment.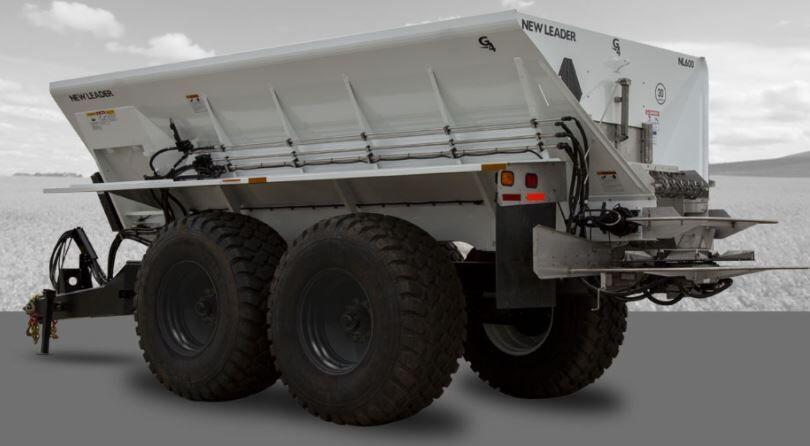 "Growers and custom applicators are facing tighter application windows every year," says John Rathjen, Director of Product Development at NLM. "The NL600's high throughput and hydraulic flow capabilities let operators apply nutrients faster, wider, and at higher rates, all while maintaining a consistent spread pattern. By increasing their spreadable acres per day, growers and custom applicators can save time, achieve a better cost per acre, and get their nutrients down in these diminishing application windows."
Features and benefits of the NL600 include:
High 608 cu.ft. capacity to manage large payloads resulting in longer times between refills
3x the throughput as competitive units allowing for higher rates at faster speeds
304-stainless steel bottom panel with poly floor liner, 304-stainless steel spinner fins, and 304-stainless steel chain shields to resist corrosion and extend unit life
Adjustable precision G4 spinner spreader technology with adjustable feedgate to allow for different densities and product rates
Tractor or PTO hydraulics
Optional ISOBUS scale system with 6 weigh beams for static in-field calibration
The NL600 is available now through authorized New Leader® dealers. To find a dealer close to you, please visit New Leader's Dealer Locator. For more information on the NL600 or other New Leader® spreaders, visit www.newleader.com.
About New Leader Manufacturing: New Leader Manufacturing was established in 1939 and is a family-owned business located in Cedar Rapids, Iowa. They manufacture industry-leading New Leader® crop nutrient applicators, and Hi-Way® deicing spreaders and road maintenance equipment. For more information, visit newleader.com.