Now Hiring.
Whether you're driving through rural America or a large city, help wanted signs abound. Agriculture must compete with other employers to keep food production chains moving forward. Although worker short-ages in packing plants handicap the number of cattle harvested each week, feed yards, feed mills, farmers and ranchers are also struggling to meet their needs in terms of labor.
Innovation and flexibility are two areas helping some industries with labor issues. One emerging technology can help feed yards utilize feed truck drivers who might not have as much training or experience.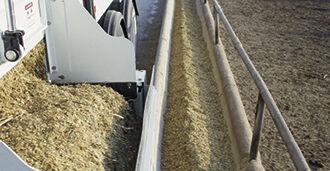 "We think this new technology will speed up the time it takes to develop an efficient feed truck driver," said Roto-Mix Executive Advisor Mark Cooksey. "When you're driving a feed truck, there's a lot of things going on at once. Our new system takes over most of those functions."
The technology Cooksey is referring to is Auto-Feed, a computerized system that works in conjunction with feeding system software to deliver the correct amount of feed to the correct pen in one pass. It is currently available for the RDB (Ration Delivery Box) but other models are currently being developed.
Roto-Mix President Kelly Wittman said the technology assists a feed truck driver in multiple ways. First, it will not put out feed if the driver is at the incorrect bunk, thanks to GPS programming. Second, automation makes it easier for the driver to begin the feeding process. When the driver pushes 'start,' the spout opens, the feeding door moves to a preprogrammed height and the conveyor starts moving slowly as feed is dumped into the bunk. At that point, the system accelerates the truck to 3.5mph for the length of the bunk. Door height, ground speed and spout functions are fully programmable.
"All the driver has to do is hit start and steer. When he gets near the end of the bunk, he slows the truck with the brake," Wittman said. A pre-calculated algorithm controls how much feed is distributed over the specific bunk space so that cattle are fed evenly across the pen.
"The theory is the system can keep the feed delivery even from start to finish so all the cattle have the same opportunity to eat feed," Wittman explained. "What we're shooting for is a very evenly fed, accurately fed pen in one pass."
Dispensing feed evenly down the bunk in a single pass is a skill that takes time to develop for drivers. With leftover feed, most drivers must back up, Cooksey said. That causes additional wear and tear on the truck, plus stopping and backing up increases the opportunity for damage to trucks and bunks. That's exactly what Cooksey hopes to reduce with the new system.
"Times are different. Quality labor is harder to come by. Consistency of the labor is harder to come by, and I think labor will get more expensive down the road, he said.
Technology such as Roto-Mix's Auto Feed and robotic farming systems are coming online as the labor shortage increases for agriculture. Concerns about labor shortages in the U.S. continue to grow. The July Ag Barometer from Purdue University reported nearly two-thirds of respondents said they had "some" or "a lot of difficulty" hiring adequate labor, compared to 30% in 2020. Agriculture has difficulty competing with other laborintensive jobs due to long hours and outdoor working conditions.
As American labor shortages continue, Cooksey said the problem is even larger in Australia, another major cattle feeding area. "Their labor is more expensive and many of their feed yards are in remote locations. Their need for qualified labor is even higher than here," Wittman said.
Cooksey and Wittman are excited to explore international development with the new technology. Currently the system is available in the U.S. on new RDB's (Ration Delivery Box) and can be retrofitted on existing RDB's already in use.
Wittman said the system will help develop an efficient driver quicker than traditional training. And if necessary, the system can go to a manual setting should the situation call for it.
"Almost anybody can drive this. If you can drive the truck and not hit anything, get through the mill and know where the pens are, you can drive this truck," Cooksey said.