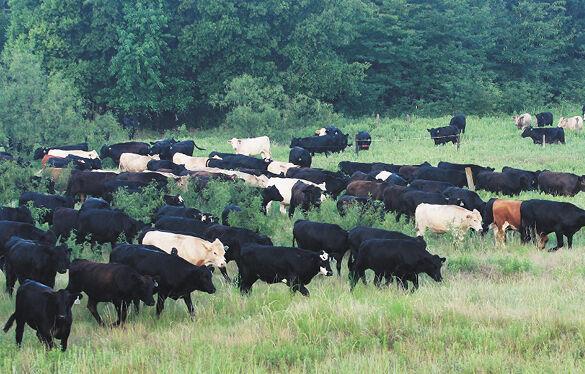 Today, with rising feed and fertilizer costs, getting the most out of your forage supply is more crucial than ever. "It can literally be the difference between red and black ink at the end of the year. Everyone wants to find the silver bullet to make their operation more productive and profitable, but the key to profitability is getting more out of what we already have," says Wesley Tucker, field specialist in agricultural business with the University of Missouri Extension in Polk County.
As we head in to spring with a drier than average winter for most of us, forage needs are foremost in ranchers' minds. Utilizing tactics like rotational grazing could be more important than ever to help stretch forage supplies.
Rotational grazing is not a new concept, and implementation can be easy with a carefully thought out plan. Each region throughout the country has different grasses and forages available, but there is often "a secret weapon in the form of a forage supply that grows really well. Matching the number of animals you raise to that forage production and keeping your stored feed costs low is how to be a profitable operation," Tucker says.
Getting Started
Rotational grazing may sound good on paper, but how do you make it profitable for your operation? Step one is to "take an honest assessment of your stocking rate compared to your forage production," Tucker says. It's important that you select the optimum stocking rate for your operation. It's very easy to overstock which converts to shorter grazing seasons with longer feeding periods. "Every day you keep a cow harvesting her own forage is a day closer to profits," Tucker says.
Dusty Schwandt, rangeland management specialist with the USDA based in Holton, Kansas, reminds us, "there is a misconception out there that if a person does rotational grazing, they can increase the stocking rate. A rotational grazing system that doesn't have a properly balanced system (a balance between the forage produced and the animals' needs) will lead to a decrease in forage production over time. By taking more than half the above ground biomass in a given year (thus an unbalanced system) will lead to a decline in animal performance and higher inputs. Over time an unbalanced system will lead to a decrease in forage production."
Thus the animal to acreage balance is very important.
The experts suggest thinking about how you can break your pastures up in to smaller sections. Think about the core necessities for grazing animals: water, feed and shade. Get a map of your property and see how you can create paddocks with each of these necessities in each paddock. These can be split with permanent fencing or even a wide range of temporary options.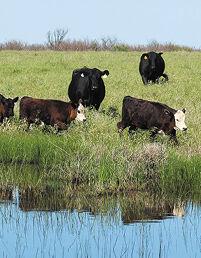 Schwandt says, "one of the main factors to consider when trying to develop a rotational grazing system is water. It can be very expensive to develop water where needed, so one must consider all the economics involved. If you're spending thousands of dollars to install fencing and a water system, will that system pay for itself in the long haul? Getting that extra harvest efficiency could cost you thousands of dollars to get, and one must pencil it out to see if spending the money is really worth it."
Some question how much it will take to train cattle to a rotational grazing system. This part isn't difficult at all, according to experts. Cattle learn pretty quickly they are headed to new and fresh grass. Tucker says that no two years are alike so it is a constantly evolving management process. Flexibility and the ability to adjust to current conditions is key.
When to Move
The goal is to move the cattle before the forage in that grazing cell starts to regrow. Ranchers know that cattle love the fresh growth and will continually go back to fresh growth rather than eating the more mature growth. Timing of movement will vary throughout the year based on grass regrowth rates. The important part of rotational grazing is not to "graze the forage too low and give it sufficient rest to replenish its reserves" Tucker states. "The rest period is really important for recharging the plant's resources. If you remove too much of its solar collector, it will be much more difficult for regrowth to occur."
The Natural Resource Conservation Service has grazing sticks available to help you measure your grasses, Schwandt says, "Measuring your grasses before turning into a paddock will allow you to figure how long a certain number of animals can graze in that pasture. Grazing sticks will have figures on them that let you figure pounds of forage per inch of grass height. Always figure, on average, animals will consume 3% of body weight per day."
Tucker concludes, "each operation will design its system slightly different based upon the resources at their disposal. However, every operation can benefit from rotational grazing. Your forage is your cheapest feed source, make sure you are getting the most out of it."