By: Luke Schwieterman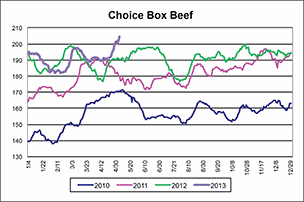 Exports are in the news as numbers for the month of March are down 3.1% from last year. Russian exports dropped from 10.930 million pounds last year to zero this year due to their resistance possible drug residuals in meat. However, analysts who quickly jumped on the bad news on Russian exports didn't seem to notice exports to Japan being up 170.3% from last year because of the change in the age of acceptable cattle. Our take is the small reduction in exports given the available cattle supply in the US is not surprising at all and not a reason to get bearish cattle price going forward.
Are there problems on the horizon? Perhaps past the fourth quarter. Fourth quarter prices are estimated by the USDA to range between $127 and $137 based on 8% less beef being produced in the US during that period. Basic economics tells us you probably won't sell smaller beef supply with cheaper dollars. USDA's first estimate for 2014 shows a four percent decline in for the year. Obviously, this estimate will change overtime but it indicates that beef production will continue to decline into next year.
The May 10 Supply and Demand report gave us USDA's first best guess of new crop production and demand. USDA numbers reflect more normal weather conditions with increased acreage. Reaction in futures price to more plentiful supply has been negative price so far. However, planting delays promise to reduce the acreage in our opinion in the northern states. Plus, late planting will cause concern about the pollination period being during the hotter summer season reducing yield. But those are concerns down the road. For now, we suggest covering feed needs using call options. As for cattle, it is difficult to hedge cattle when the basis is as wide as it is now. Hedging with put options on rallies would be a strategy to consider.     
Disclaimer:
This material has been prepared by a sales or trading employee or agent of Schwieterman, Inc. and is, or is in the nature of, a solicitation. This material is not a research report prepared by Schwieterman, Inc. Research Department. The risk of loss in trading futures and/or options is substantial and each investor and/or trader must consider whether this is a suitable investment. Past performance, whether actual or indicated by simulated historical tests of strategies, is not indicative of future results. The information contained herein is based on data obtained from recognized statistical services and other sources believed to be reliable. However, such information has not been verified by us, and we do not make any representations as to the accuracy or completeness. All statements contained herein are current opinions which are subject to change. You may visit our web site at www.upthelimit.com