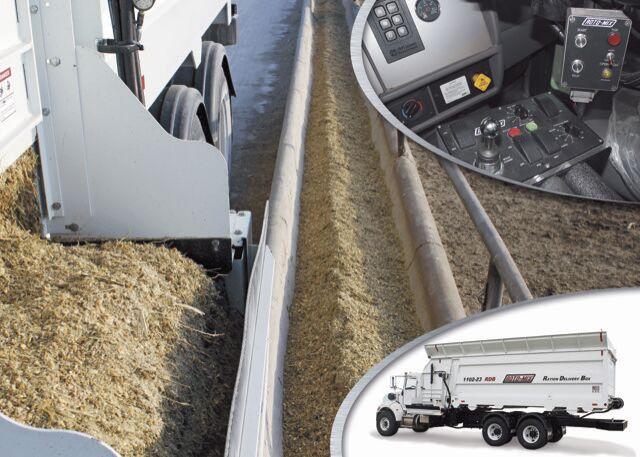 Roto-Mix's Auto-Feed System is the newest innovation in automated feed delivery for commercial feedlots and dairies.
During feed delivery, Auto-Feed increases feeding efficiency and ration delivery accuracy to the feed bunk. Precise feed rations are more accurately and evenly distributed to match individual pen requirements. This patent pending system is currently designed to work with the Roto-Mix Ration Delivery Box RDB models 822-17, 1102-23 and 1202-25; however, Auto-Feed is currently being developed for other Roto-Mix models and other feed management systems.
Working in conjunction with the Ration Delivery Box and Micro Technologies® Accu-Trac, the Auto-Feed System controls the throttle, ground speed and all RDB functions. This produces more consistent feeding down the bunk, provides better control of call weights and virtually eliminates feeding in reverse. Auto-Feed is constantly learning and adjusting the feed rate for different rations based on the call weight and delivered weight.
The Roto-Mix RDB Load Sense Hydraulic system produces maximum flow and pressure at approximately 1100 engine RPM. Lower engine RPM and ground speed reduces fuel consumption, chassis wear and overall maintenance.
Remote access by Roto-Mix personnel to diagnose issues, change settings or update software as needed, is made possible with Telematics which is standard with a monthly subscription. The advantages of Auto-Feed make it a very important tool to use in the management of precision feed delivery.
For more information go to www.Rotomix.com select Auto-Feed System under Products in menu or call 620-225-1182