The enterprise budget helps forecast economic profitability by comparing options.
Melissa McKendree, Assistant Professor in Michigan State University's Department of Agricultural, Food, and Resource Economics and Corey Clark, Farm Business Management Educator with MSU Saginaw County Extension Office, hosted a webinar Failing to Plan is Planning to Fail: Enterprise Budgets and Financial Analysis in February, using as example the Feedlot Enterprise Budget Tool developed by MSU.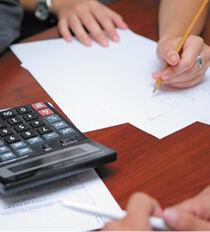 There are others such as South Dakota State University and North Carolina State University. Iowa State University's Beef Center has an entire Ag Decision Maker series, including materials specifically aimed at smaller producers. And MSU also offers an Enterprise Economics downloadable course with tips for working through a budget.
"The income statement is for the tax man. The balance sheet is for the banker. The enterprise budget is for you," says Clark. "It's your financial story, and your financial plan."
Unlike income statements used for tax and lending purposes, the MSU enterprise budget includes opportunity costs – what an asset could be worth if put to different use. That asset may be fixed, such as land or physical structures, or may be non-cash, such as unpaid time, or unpaid owner provided labor or management.
The budget attaches a value to the next best use of an asset. If you didn't use all of your land for your beef operation, what could you use it for? What would that value be? What is your time worth? What is your family's labor worth? What could you be earning at another venture if not raising beef?
"Accounting profit accounts for cash changing hands," says McKendree. "An enterprise budget calculates economic profitability."
Using an Excel format, the MSU enterprise budget allows for entering historic and projected values for explicit costs as well as opportunity costs. That allows for comparison of breeds, rate of gain, feed costs or anticipated markets.
The multi-page format gives the producer the ability to look at various parts of the operation separately and collectively. Separate budgets can be developed for grain and livestock sectors, for instance. Then entered data not only adjusts to various variables within that sector, but is auto-populated back into the main budget.
Yardage and fixed expenses can be allocated across varying herd numbers, or days on feed, or components of an operation.
"The enterprise budget can give you a break even analysis and your total operating cost per head basis," says McKendree. "It can tell you how much a specific unit of product can contribute to payment of fixed costs, and it can break down items, like a tractor for instance, across multiple areas of business."
Going through the enterprise budget process can help red flag areas where assets might not be getting their best use, and help you look ahead to see what profit or income really mean for your operation.
"Using an enterprise budget as a financial analysis tool can give you a big picture view of your financial story," says Clark. "It does not address debt or working capital, but it can show how the cost of production fits in the whole farm financial picture."
Clark says in a good business plan annual production is profitable, cash flow is sufficient and your financial situation is stable and improving. Your cash operating profit needs to cover debt payments, taxes and family expenses, and provide capital to reinvest in new assets. It's a closed system where profit supports all three.
The enterprise budget takes things a step further in evaluating profitability and makes you examine the way you use your resources.
"It tells your whole financial story," says Clark. "Where are you? Where are you headed? What do you have, and what is needed, to get there?"